Do you ever get frustrated reading the labels on products you purchase?  What are half of those chemicals?  Are they safe or will they cause me health issues?
ChemView
The Environmental Protection Agency (EPA) has started providing information on health and safety data of chemicals in ChemView.  As part of the requirements of the Frank R. Lautenberg Chemical Safety for the 21st Century Act, which amends the Toxic Substances Control Act (TSCA), the EPA is committed to providing access to chemical information.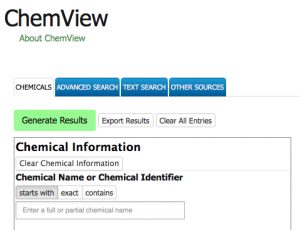 ChemView is free and easy to use.  An introduction to this tool is available on the EPA website, and a tutorial is also available on YouTube.  The goal of the EPA is to improve access to chemical information, so that individuals and businesses can make informed decisions about the chemicals they use.  This provides easy access to thousands of documents, including hazard characterizations, alternative assessments, test data submitted to EPA, and TSCA regulatory actions.  Summary information is available with links to more detailed information, such as the submitted study or the Federal Register notice.
Advantages
ChemView can be used to:
Identify chemicals by searching for certain health effects (endpoints)
Compare data for multiple chemicals
Identify specific actions EPA has taken on the chemical
Export data for additional analysis
Identify and view documents on safer chemical ingredients
Identify and view TSCA-related information
Obtain source documents
Identify and view information provided by the EPA and other federal organizations
Contact Us
As I asked in last year's Earth Day blog, what are you doing to reduce the use of hazardous materials and substitute those with safer alternatives?  Often, businesses don't realize all the tools they have at their disposal to help them make informed decisions about raw materials and chemical substances.  ChemView is just one example of a tool that's free and simple to use.  At Strategic Realm Consulting, we like to help our clients by pointing them in the right directions.  Contact us if you would like help in making improvements to safer chemicals in your workplace.