Spring has sprung!  The days are getting longer, and the weather is getting nicer.  It's very refreshing to be able to enjoy more time outdoors.
Now that we can all enjoy getting out, the last thing we want to deal with is a hazardous material (HAZMAT) transportation emergency.  As we know, these can and do occasionally happen, so we need to ensure that the materials we are shipping are being transported properly.  This includes proper classification, labeling, documentation, and packaging.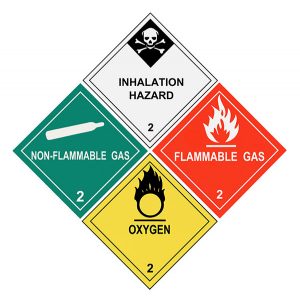 Title 49 of the Code for Federal Regulation covers Transportation, and it governs the domestic transportation of hazardous materials for all forms of transportation to, from, and within the United States.  A HAZMAT is defined as a substance or material that is capable of posing an unreasonable risk to health, safety, and property when transported in commerce.
The U.S. Department of Transportation's Pipeline and Hazardous Materials Safety Administration (PHMSA) has created a Quick e-Resource Guide with 7 useful tips for safely shipping hazardous materials in commerce:
Classify the Material
Determine your HAZMAT employee training needs
Determine any Registration Requirements
Select your approved packaging
Mark and label your package
Verify Highway Transport and placarding requirements
Prepare shipping papers
While Title 49 provides all of the precise federal requirements, the e-Resource Guide is extremely helpful in walking you through the necessary steps in a way that's easy to follow and understand.
So, this Spring, do yourself a favor and evaluate your HAZMAT training program.  If you need additional information on setting up your HAZMAT training, you can refer to the brochure, Guide to Developing a HAZMAT Training Program, published by PHMSA.  If you would like an outside opinion regarding your HAZMAT training program, please contact us at Strategic Realm Consulting.  We will be happy to provide some suggestions.