Welcome to Fall!  I love the crispness of the air, football games, and fresh apple cider.  It's also a good time to start thinking about your compliance with Right-to-Know (RTK) laws.  The purpose of these laws are to ensure that employers share scientific information about the toxicity and other characteristics of the chemicals used in their facilities.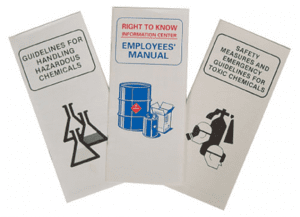 Under the Federal Emergency Planning and Community Right-to-Know Act (EPCRA), facilities handling or storing any hazardous chemicals must submit Safety Data Sheets (SDSs) and a chemical inventory form to state and local officials and local fire departments.  If you meet the criteria of storing or handling hazardous chemicals, you should make it a yearly practice to forward the appropriate SDSs and your chemical inventory form.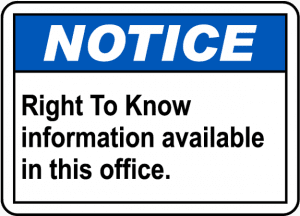 In addition, many states also have their versions of RTK laws.  While the specific requirements for each state may vary, in general the following are typically required:
Inventory: This is a comprehensive written inventory of all hazardous materials used and/or stored.  It should include by-products and intermediates as well.
SDS: Each site should have one for every chemical.  All employees should be able to readily access them.
Chemical Information List: All SDSs should be reviewed and used to prepare this list.  The chemicals should be arranged in alphabetical order by common name, contain the chemical name, identify the workplace area where it can be found.  All employees should be able to access this list.
Clear Labeling: All containers should be clearly labeled, even for temporary portable containers. Hazardous substances should detail the potential hazards.
Have a System to Update: All employers need to have a system to update their Chemical Information List and SDS holdings as new substances arrive.  This should be done within 30 days.
Hazard Assessment: Businesses should review engineering controls, Personal Protective Equipment (PPE), emergency procedures, and Standard Operating Procedures (SOPs) for adequacy to ensure the health and safety of all employees.
Hazard Communication (HazCom) Program: There should be a written HazCom program for employees, explaining in detail how the company is meeting the above RTK requirements.
Training: It is recommend to have a yearly HazCom training session.  All employees should know where to obtain the Chemical Information List and SDSs. They should also know how to read and understand labels and SDSs.  Finally, all employees should know how to use the appropriate PPE.  It is essential to ensure that all new and transferred workers receive this training.
If you have questions or need help with any of these aspects in complying with RTK laws, contact us at Strategic Realm Consulting.  We can help with setting up systems, conducting audits, and training employees.