This is often the time of year that we usually pause to reflect on the year and the things we are thankful for.  Family, good friends, and good health are always at the top of my list.  This year, I am also thankful that I have the flexibility to work as a consultant and make my own hours.  My Work/Life balance has never been better, and as a bonus, my health has also improved.
I recently took part in a Focus group discussion (because I can) on various topics related to company and employer practices in different situations.  All were very thought-provoking scenarios.  One that was interesting had an environmental group that was unhappy with a Hog Farm, and tried to initiate changes to environmental regulations, but the Hog Farm had successfully stalled the proceedings.  The environmentalists were not to be discouraged and instead broke into the farm in the middle of the night and released all the hogs.  Our focus group was to discuss whether we felt the environmentalists were justified or not.  Although our focus group was somewhat divided on the other discussion topics, we were all united on this one and felt the environmentalists had overstepped and actually caused more harm than good through this action.
The point I wanted to make with this situation is that regulations are put in place to protect people and the environment.  Typically there is a lot of research, thought, discussion, negotiations, and comments from impacted parties that go into setting regulations.  They don't happen overnight and that's a good thing because we want them to be done right.  In the focus group scenario, the environmental group would have been better to continue to work with the regulators to push for the appropriate laws to be put in place.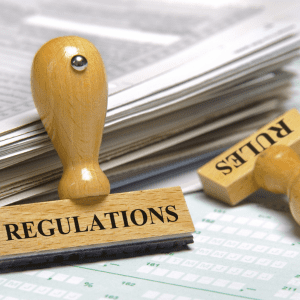 In the same respect, going around regulations is never a good idea.  Aside from incurring fines associated with ignoring the requirements, you may be putting people at risk from this.  If you need help understanding how to meet certain regulations or how they impact your business, please contact me, and we can discuss how I can help.